Running a website comes with it's own troubles. Especially when using Services like Google Analytics. Which tracks metrics such as user behavior and personal data.
So are you worried on whether your Google Analytics data collection is compliant with emerging regulations like the California Consumers Protection Act, CCPA for short?
Well, I wrote this article to basically show you how to ensure your site is compliant enough. Please do keep in mind, the method used here, does not give a 100% solution. There are other laws you have to comply with such as the Brazilian LGPD.
What is the Brazillian LGPD law?
The Brazillian LGPD (Lei Geral de Proteção de Dados). Is a new data privacy law that will apply to businesses (both inside and outside Brazil). That process the personal data of users in Brazil. The law is still under ongoing discussion. But, expected to go into effect on August 16th, 2020.
So, further consult with a competent lawyer for other regulations. That may apply to your business. Now, back to why we are here.
What is the California Consumers Protection Act or CCPA?
The California Consumers Protection Act of 2018. Is a recent cookie law, passed by the State of California. A law aimed at protecting consumer privacy. This is due to an increase in the collection of personal data in new business practices. And the personal privacy implications surrounding the collection, use, and protection of personal information.
Monsterinsights, is the popular WordPress plugin. That helps you integrate your website with Google Analytics. Try MonsterInsights for Free.
Who does CCPA basically apply to?
The California Consumer Privacy Act (CCPA), Unlike GDPR (a European data privacy law). Applies to every company or anyone in the world if:
They collect personal data of California residents
They (or their parent company or a subsidiary) has Annual gross revenues of at least $25 million
Obtains personal information of at least 50,000 California residents, households, and /or devices per year
At least 50% of their annual revenue is generated from selling California residents' personal data
CCPA law applies to Google Analytics, as it helps in understanding website user behavior. Through collection of personal data like IP addresses, age, device, including other vital information attached to a UserID.
In normal circumstances, a website can't run without this vital data from Google Analytics. Which can potentially, leave you with no data for both the business and website. It's like sailing into the unknown waters.
But, with a few tweaking here and there. You can ensure Google Analytics complies with the requirements of CCPA law. Let's get into it.
How to Make Your Google Analytics CCPA Compliant in WordPress
We can achieve our goal for CCPA compliancy by simply going through on the following simple 3 steps. The first thing to do is, ensure you have the Monsterinsights Google Analytics plugin installed.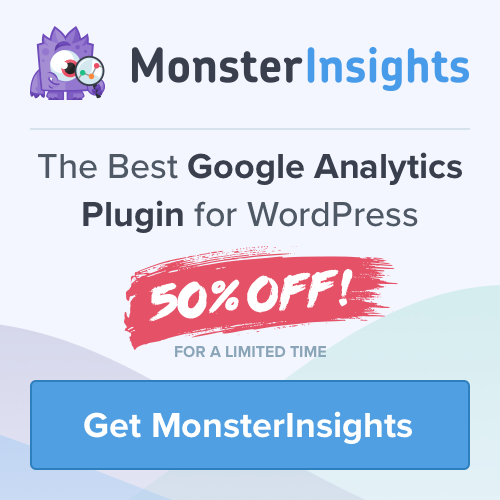 Step 1: Install MonsterInsights and EU Compliance Addon
Monsterinsights allows you easily integrate your site with Google Analytics. And it comes with impressive add-ons like the EU Compliance addon. Which basically enables you to anonymize or disable personal data tracking in Google Analytics with a click of a button for CCPA compliancy.
The following are the addon options at your disposal:
Allow AMP addon users to agree with the Google AMP consent box before tracking their data
Anonymize user's IP address Google Analytics hits
Automatically disable author tracking in Google Analytics
Disable UserID tracking on Google Analytics
And a lot more other options to play around with. These options can be accessed through the addon, by navigating to Insights » Addons » EU Compliance in the admin menu. Then install and activate the addon.
After activation, go to Insights » Settings » Engagement and scroll down to EU Compliance. From here make sure to tweak the add-on settings to comply with CCPA. The changes made here will affect how Google Analytics treats your website user data.
Step 2: Create an Opt-Out Consent Box
The next, create an opt-out consent box. This a requirement under CCPA to enable users is opt-in or opt-out from websites sharing their personal data with third parties. By using free WordPress plugins like CookieBot or Cookie Notice. Which easily integrates with MonsterInsights.
Step 3: Update Your Privacy Policy
Before you get all excited. Make sure to update your website privacy policy. This is because under CCPA, California citizens have the right to be informed on what data you are collecting about them.
In Conclusion
Please, stay out of trouble by being CCPA compliant. This simple house keeping will save yourself from huge fines that come with it if you are caught in violation. CCPA was officially enforced on July 1, 2020, and applies to any businesses or anyone that provides web services to the residents of California.
I hope this article helped you learn a few ways to go about CCPA compliancy. With the help of Monsterinsights a powerful Google Analytics plugin for WordPress. Make sure to check it out and learn more on what you can achieve with it.