Are you looking for an easy way to boost sales countdown timer popups? Store promotions, giveaways and discounts are easy attention grabbing strategies that boost sales. Most online shoppers are easily compelled to make a purchase given a sense of saving.
But how can you show the promotions to your customers at the right time? Countdown timer popups are a great tool that you can add to your site for increased sales or reduced cart abandonment.
So, in this article, I'll show you how to create a countdown popup using OptinMonster.
How to Create Countdown Timer Popups
OptinMonster's countdown timer feature adds a sense of urgency to your holiday sale discounts or flash sale, there by boosting sales like crazy. Now, let's get started creating the popup.
Step 1: Creating a Timer Floating Bar
First thing, note that OptinMonster is a premium marketing toolkit service, so ensure that you are subscribed to one of OptinMonster's plans.
If you are all set, go into your OptinMonster dashboard. Click on Create Campaign to create your new optin floating bar.
Next, Select Floating Bar as your campaign type.
Hover over the Floating Bar and choose Countdown template by clicking on Use Template button.
In OptinMonster a countdown timer can be added to any of OptinMonster's campaign templates by just drag and drop.
Next, type a name for your promotion timer and select your website from the dropdown menu. Then, click on Start Building button to enter the campaign builder.
Step 2: Set Up Display Settings
By default the floating bar is displayed at the bottom of your website. To bring it to the top of your site, click on Display Settings and toggle Load Floating Bar at Top of Page to the On position.
Step 3: Set the End Date/Time
Edit the end date by directly clicking on the countdown clock in the live preview which bring up the editing tools to the left.
Select Static as your timer Type this gives you a consistent countdown timer across the website.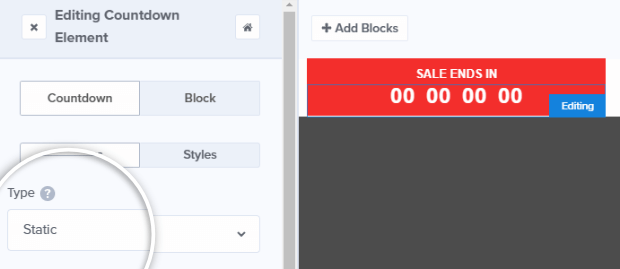 Don't forget to set display, enter the date and time settings for when your sale is scheduled to end.
Step 4: Customizing the Campaign & Design
Tweak the floating bar to reflect your offer and brand. By changing timer background, button colors and offer text.
To edit the bar design, hover on any bar element and two small, gray icons will appear. Click the one that looks like a gear to edit the settings and styling of the column.

Design the Campaign Success View
The success view provides users who Optin into the campaign with a coupon code once the sign up process is complete.
To edit the Success view, click on the Success tab.
Connect Your Mail Service
OptinMonster allows you to Connect an Email Service Provider in order to collect email addresses. OptinMonster integrates with most of them like MailChimp and Constant Contact.
The email integration settings are found in the Integrations tab. Here you can easily connect your favorite mail service by following on screen instructions.
Step 5: Set the Bar Display Rules
In the Display Rules tab, you can set your floating bar to be displayed on or before a certain date.
Now, add a new rule to set how and who should see the campaign. If you want to display the countdown popups on the 'shop' page, set the second condition to content URL path exactly matches shop.
Step 6: Publish Your Countdown timer Popups
To publish the campaign! Go to the Publish tab and toggle the Status to Live. Then, Save the campaign.
Next, if you haven't already, ensure to install the free OptinMonster WordPress connector plugin. Which makes the connection between OptinMonster and WordPress seamless.
Once installed, you can view your optin list by going to your WordPress dashboard and clicking the OptinMonster icon. To make your campaign live on your website, simply click the Go Live button next to the campaign name.
And that's it. But, if you don't use WordPress, you can as well Publish your popups on your Shopify store or, embed it on any website that you wish.
I hope this article helped you get started with creating a countdown timer for your promotions during this fast coming holiday season.
Having trouble adding google analytics to your website? Then check out this article How To Add Easy, Powerful Google Analytics In WooCommerce.